Through nine games, Spurs are among the best defensive teams in the Premier League, per our very own MCofA. There's little room for improvement here - only Southampton have been better defensively than Spurs and they are probably due to regress.
Spurs' attack is a different story. As Ted Knutson pointed out this week, Spurs are averaging a paltry 0.66 non-penalty goals per game, after averaging 1.73 last year. The issue hasn't been the number of chances created -- Spurs have created a ton of chances. Rather, the issue is conversion. This graphic, from @experimental361, tells the story: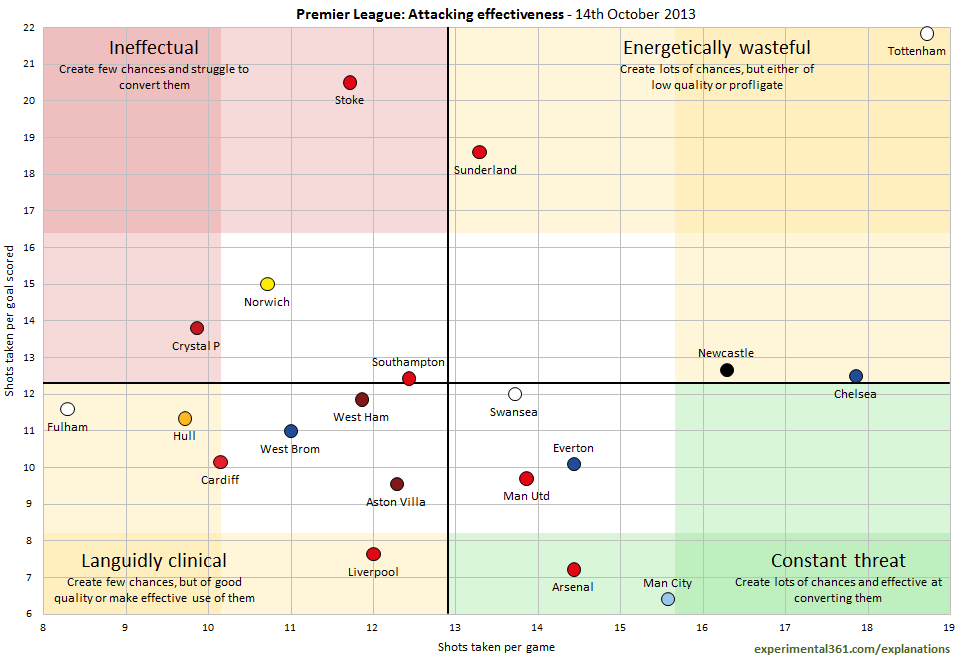 Spurs are off the chart, and not in a good way. Some of this is likely random variation, with Spurs due for a regression towards a better conversion rate, but mostly it's because Spurs' chances haven't been very good. Spurs have fewer shots in the box on target (SiBoT) then any of the remaining top-four contenders (chart courtesy of MCofA. He's on twitter now, by the way. Follow him!).
This matters a lot. Shots from inside the box convert at a much higher rate than shots outside the box. If Spurs want to start scoring more goals, something has to change. Here are four ideas for Andre to consider.
Be sensible about Cup matches
Villas-Boas's team selection for the Europa League this season has been puzzling. AVB selected Danny Rose against Tromso in September and selected Sandro against Sheriff Tiraspol last week. Rose, of course, suffered a foot injury that has seen him miss the last five league games. Sandro, meanwhile, was visibly fatigued against Hull and Villas-Boas was forced to use a valuable substitution to withdraw him at halftime.
Even if we take it as a given that the Europa League is a worthwhile competition, in neither game did it make sense to start the player in question. Spurs' faced weak opposition each game and had no adequate back-ups for either Rose or Sandro. While the Rose injury was particularly unlucky, Villas Boas should not have started either player. Ezekiel Fryers and Nabil Bentaleb would probably be adequate against the likes of Tromso, Sheriff, and a depleted Anzhi Makhachkala, especially when surrounded by a host of first team players.
Going forward, Villas-Boas should follow two rules for the remaining matches in the Europa League's group stage to ensure the squad is fresh and fit for Premier League matches. First, he should never start a player who has no adequate back-up. Second, he should allow player who definitely will not play a part to avoid the rigors of flying and remain in London. Roberto Soldado, for example, traveled to Moldova in midweek despite Emmanuel Adebayor, who would surely be the first choice to replace Defoe in that match, also present on the bench. It may be just coincidence, but two of Spurs most lethargic attacking performances this season, against West Ham and Hull, have come directly after Europa League matches in faraway lands.
Play Christian Eriksen in the No. 10 role
Lewis Holtby is a likable guy. His all-action style suggests he shotguns Power Horse prior to every game and he posts lots of pictures of the team to twitter. But based on the evidence so far, he is not the best option for for the No. 10 role. Holtby's greatest strength - his desire to make something happen - can also work against him. Against Hull, Holtby was often seen picking up possession near the halfway line, making it difficult for him to play the crucial final ball or support the lone striker.
Christian Eriksen, in contrast, appears far more patient, willing to stay high up the pitch and wait for the ball to find him. While he may appear passive at times, this patience allows him to do more damage in the final third. Eriksen was at the heart of two of Spurs best attacking performances this season, against Norwich and Cardiff. In those matches, Spurs created numerous quality chances. Spurs' passing in the final third was also excellent; Ali Tweedale reports that Spurs completed 169 passes in the final third against the Canaries, a mark they had only bettered twice in the previous five seasons. Spurs completed even more final third passes the following week against Cardiff. These two matches happened to be Spurs best output in terms of SiBoT, as well.
Eriksen has had some bad games, too - against West Ham and in some recent cup matches - but my confirmation bias reliably tells me that the cause is playing alongside Jermaine Defoe and that Eriksen will be back in peak form playing next to Soldado.
Experiment with a second passer in midfield
Though Eriksen is better suited to the No. 10 role, Holtby still has a role to play as deeper lying midfielder, especially against lesser sides that park the bus and play for a draw. The alternatives, Paulinho and Dembele, are both very direct players - they thrive in open games but can become less effective when there is less pace to run into. With Holtby dictating play from deep, Spurs would be able to get the ball into advanced positions more easily. Opposing teams would face a decision of whether to leave him unmarked or to press him, which would open up space for others to attack directly.
Replacing Paulinho or Dembele with Holtby is not without trade-offs. Holtby does not have the defensive ability of Dembele and won't get into the box as often as Paulinho. But if the score is tied in the 70th minute and the opponent is parking the bus, it's worth trying.
Integrate the fringe players
This last point is so obvious as to be almost not worth making. Spurs have a lot of talent in the squad that has not seen major minutes so far this season and provides different options to the the manager. Erik Lamela offers guile and movement, Nacer Chadli is the squad's sole "natural" left winger, Emmanuel Adebayor is at better linking play than the current striker options, and Etienne Capoue offers goals from a defensive midfield position. Though none aside from Capoue have shined this season, Villas-Boas would do well to integrate them into the team.
Concluding thoughts

None of these suggestions are guaranteed to work. It's clear, however, that something needs to change if Spurs are to remain in contention for a place in the top-four. Have your own ideas about how Spurs can score more goals? Let us know in the comments (or if it's really long, write a Fanpost)!
Not a member? Join Cartilage Free Captain and start commenting | Follow @CartilageFree on Twitter
| Like Cartilage Free Captain on Facebook | Subscribe to our RSS feed