Normally, I write the Tactics Tuesday posts, but because I am extrordinarily lazy and because Brett Rainbow does such an amazing job with these pieces of analysis, we're going to let this serve as our Tactics piece for this week. Excellent job, Brett!
Tottenham Hotspur played pretty well against Cardiff City on Sunday. Spurs finished with 12 shots on target (including 5 in the box) while Cardiff finished with none. These are dominant numbers. Even so, it took Spurs until the 93rd minute to take the lead from a gorgeous Paulinho backheel. Had Cardiff been a bit better (or luckier, depending on how you view some of referee Mark Clattenburg's decisions), Spurs could have easily dropped crucial points.
One of the reasons for Spurs' inability to break through the Cardiff defense was ineffective wing play. On the right, Andros Townsend played a fairly typical game for him - frequent dribbles to get past defenders followed by speculative long shots.
_____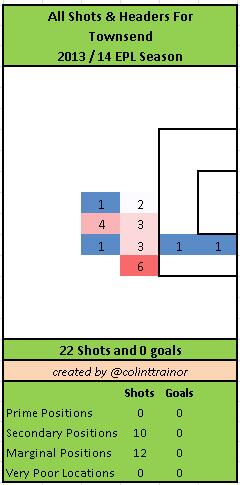 This is a recurring issue for Townsend. Despite averaging 5.5 shots per game (most in the Premier League), he is yet to score a goal this season. This is primarily because he does not take shots from high percentage areas.
It's unclear whether Andre Villas-Boas is instructing Townsend to take these shots - he's hardly the only Spurs player to do it - or whether he's doing so for lack of better options. Regardless, Spurs would be better off substituting some of these shots for higher percentage shots in the box. Townsend, using his close control and fantastic acceleration, is certainly capable of creating these sorts of opportunities for teammates when he picks his head up.
On the other flank, it's arguable that Gylfi Sigurdsson had a worse match against Cardiff. Though he completed 22 of 25 passes, he only made 6 passes in the attacking third. Townsend, while not particularly incisive, was at least active in that zone of the pitch.
Gylfi's anonymity had much to do with his partnership with Kyle Naughton on the left flank. Both players are right footed and look to come inside. Consequently, Cardiff's defense compressed into the center of the pitch, comfortable in the knowledge that neither Sigurdsson or Naughton would beat them down the touch line and put a cross into the box.
With both players underperforming, what could Villas-Boas have changed? One option would be to pair Sigurdsson with a left-footed fullback, either Jan Vertonghen or Ezekiel Fryers. While Vertonghen largely acquitted himself well at left back last season, he remains Spurs' best center back and Younes Kaboul is not yet fit to play 90 minutes. Fryers, meanwhile, is something of an unknown quantity and it would not be a surprise to see Villas-Boas start him against Aston Villa in the Capital One Cup on Tuesday as a means to assess his readiness for the first team.
If Villas-Boas insists on starting Kyle Naughton, who is generally quite solid defensively even if he offers little in attack, he should consider moving Townsend over to the left wing and inserting Erik Lamela on the right. Townsend could stretch play even without an overlapping fullback and would be less likely to cut inside and take long-range shots. And, of course, it would mean more minutes for Spurs' most expensive signing. No matter which option Villas-Boas chooses, Spurs will need more from their wings if they are to beat Chelsea on Saturday.
Not a member? Join Cartilage Free Captain and start commenting | Follow @CartilageFree on Twitter
| Like Cartilage Free Captain on Facebook | Subscribe to our RSS feed