En fuego. A tidy six game winning streak in all competitions has restarted the engine for Spurs' trophy ambitions, pushing the Lilywhites into 3rd place in the league (above Arsenal on goal difference) and into the 5th round of the FA Cup. The team finds itself finally at the end of its frantic stretch of fixtures, in what will Tottenham's 8th game in 27 days.
The Spurs offense has finally found it's goal scoring form again, tallying an impressive 16 goals in its last five games in all competitions. Harry Kane is tied for second highest scorer in Premiership play, Christian Eriksen is tied for fourth in the league in assists, and the likes of Dele Alli, Son Heung-Min, and Mousa Dembele are all in fine form. Even the defense showed nary a crack with Kevin Wimmer deputizing for the injured Jan Vertonghen. With a needed week's respite ahead, the key will be whether Spurs can get a needed 3 points and perhaps leave themselves just two points off the league lead by the end of the weekend.
Coming down to White Hart Lane are Watford, currently sitting in 9th place on 33 points in what has been a very strong return thus far to the Premier League. The Hornets strong play has largely come on the back of striker Odion Ighalo, whose 14 league goals are 4th best in the EPL. Troy Deeney will look to score and create as the second striker, while Ben Watson, Valon Behrami, and former Spur Étienne Capoue make for a tough midfield that will be difficult to break down.
Can Tottenham push towards the league lead with a needed home win? We shall see.
How to Watch
Date/time: Saturday, February 6, 2016, 3:00 p.m.. (UK), 10:00 a.m. ET (USA)
Venue: White Hart Lane, London, UK
Official: Roger East
TV: NBC Sports Network (USA), Not Televised (UK), Sportsnet (Canada), Fox Sports 4 (Australia), other listings at livesoccertv.com
Streaming: NBC Sports Live Extra (USA)
Radio: Audio streamed at tottenhamhotspur.com, also BBC Radio London and TalkSport
Projected Lineup
On and on and on. It is never easy to predict Tottenham Hotspur's lineups in a period this dense with matches. We predict a slightly altered lineup from Tuesday's win, with Ben Davies rotating in at left back for Danny Rose and Erik Lamela returning to the lineup for Son Heung-Min. Now it would hardly be a shocker to see Rose and/or Son remain in the lineup, or perhaps see Kieran Trippier come in at right back. The amount of rotation, as always, remains a mystery with Maurico Pochettino.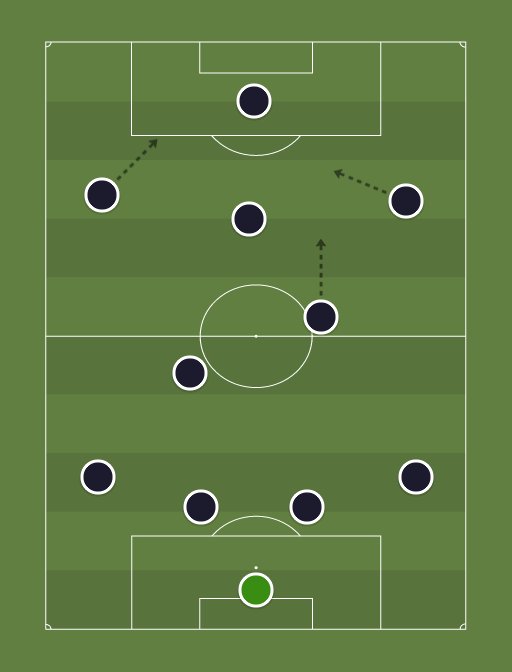 Prediction League
The rules remain the same in the Prediction League -- one point for a correct prediction and a bonus point for getting the score correct. Here are the current standings:
| | |
| --- | --- |
| Name | Score |
| Mechanick | 17 |
| Matthew Pachniuk | 16 |
| Ed F. | 15 |
| Ben Daniels | 14 |
| Dustin Menno | 14 |
| GN Punk | 13 |
| Jake Meador | 12 |
| Luke Zimmerman | 11 |
| 55thVin | 11 |
| Michael Caley | 10 |
| Skipjack | 10 |
| Bryan A. | 10 |
| Earl of Shoop | 9 |
| Salmon Chase | 8 |
Dustin Menno: This is a trap game. Spurs barely beat Watford at Vicarage Road thanks to Sonny's MIDAIR-BACKHEEL-NUTMEG-MATCH-WINNING-GOAL. I'd like to think Spurs are favorites at home, but this is the kind of banana peel match that could trip them up, especially if Ighalo and Deeney go straight at Kevin Wimmer. Going to go with a nervy 2-1 win for Spurs, but we all chew our fingernails off. 2-1 Spurs
Michael Caley: TBD
Skipjack: 2-2 Draw. Watford are good and I am scared.
Ben Daniels: Watford are fine but who cares. 2-0 Spurs
55thVin: Looks like Chelsea created some decent chances against Watford, but Gomes kept them at bay. After the fixture glut of the holidays, an FA Cup run, and one less day of rest, the almost Londoners will struggle to cope with the attacking and pressing impetus we will present. 4-1 Spurs
Luke Zimmerman: 1-1 Draw. Life is meaningless.
Earl of Shoop: Ah, memories. Seems like just yesterday I was making an ill-advised Love Actually joke about our first matchup against Watford. But we'll win this match like we won that one, which is something I love, actually. Spurs 2-1
Matt Pachniuk: I was absolutely terrified of Watford in our first encounter and while the threat they pose hasn't changed much, I am significantly less worried of dropping points this time around.  Ighalo and Deeney pose threats, but my goodness have our last couple fixtures been promising.  I am drunk, nay absolutely hammered, with optimism right now.  Spurs 3-1
Jake Meador: I like the way we're playing now. Team is confident, scoring lots of goals, defensive looks sturdy. 2-0 winners, but Ighalo will give us trouble. 2-0 Spurs
GN Punk: Watford have been experiencing issues scoring goals lately. We have not been afflicted by this. We also managed to get out of Norwich without everyone getting the Captain Trips virus. Spurs 3-1
Brian Mechanick: This game screams ugliness for me. Spurs are absolutely worn out from this dense stretch of matches, and I think Watford tries to keep it tight and play on the break. Luckily, we have the Hurri-Kane to make the difference. 1-0 Spurs
Ed F.: Watford are stubborn but we're very good. 1-0 Spurs
Bryan Ashlock: Some day one of my predictions will come true. Today is hopefully not that day. 2-1 Watford
Salmon Chase: Guys, I malice, I've worked 70 hours already this week. I'm working 28 more this weekend. 3-1 Spurs